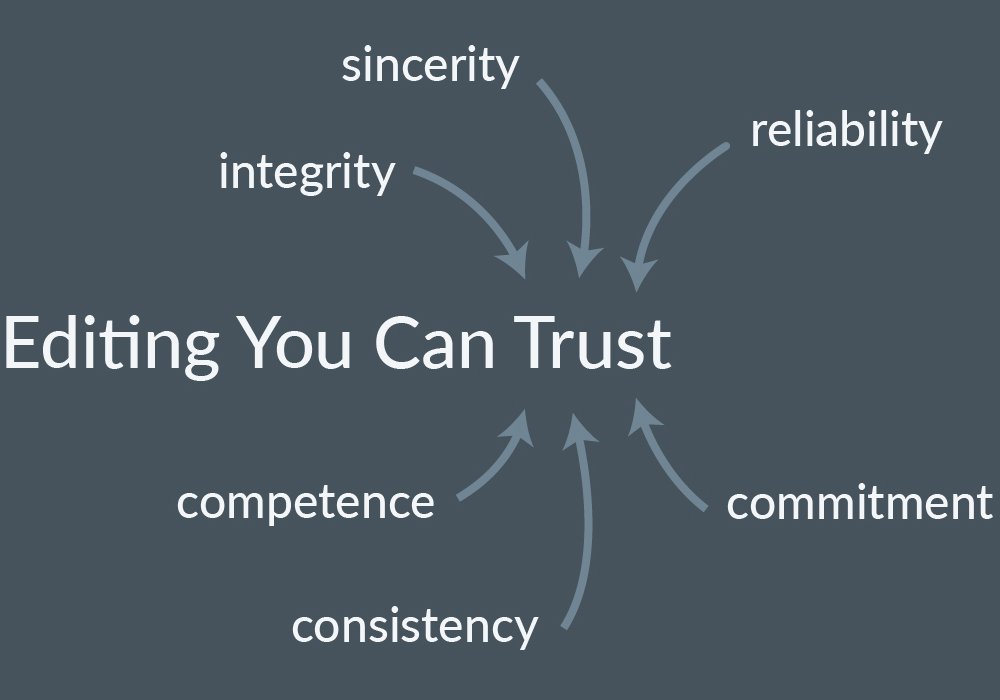 Need a skilled editor whose work you can trust? I'm a professional with 25 years of experience and accreditation from Editors Canada. I provide high-quality services on time and on budget.
My clients include
book and journal publishers
businesses
municipal governments
universities
nongovernmental organizations
researchers and consultants
Whatever your project, you'll need someone with a gift for clarity and an exacting eye for detail. I'll work with you in a friendly, collaborative way to polish your writing and make sure you look every bit as amazing as you are.
"I have worked with Dawn on many projects (large and small) and I am always impressed by her professional attitude, attention to detail, and wise insights. Prompt, thorough, and conscientious, Dawn is a pleasure to work with."
"Dawn Loewen is a great pleasure to work with, not only because she is extraordinarily good at what she does, but because she is so generous and respectful in the way she works with an author. Meticulous, highly expert, and a perfectionist, she has a lovely sensitivity to poetry and to precise shades of meaning. She gives deep thoughtfulness to her work, and a scrupulous accuracy. I am so grateful for her editorial contributions to my books."
"I worked with Dawn at a publishing house in Edmonton. She was most conscientious and thorough in her work. I benefitted from the opportunity to collaborate on some projects with Dawn. She is a knowledgeable, careful, talented editor who is able to work well with others on a team, including writers, researchers, other editors, and designers."
"I am so grateful that I chose Dawn to copy edit my first novel. She is extremely professional, prompt, kind, honest, and experienced. Her lens is both unique and nuanced and she has most definitely helped me to be the best writer I can. She has an open and clear communication style, and she managed to respect my vision while still ensuring I had all necessary information and options to make an informed decision. I have learned so much from Dawn, lessons I will take forward not only in my writing but also in life. I would not hesitate to hire her again."
"I love working with Dawn. She's thorough, accommodating, and very professional. When I receive an edited manuscript or layout from her, there are no loose ends or unanswered questions; everything is resolved, and well marked-up and notated, be it on hardcopy or in Acrobat. She promptly responds to issues that arise, and can tweak any text to improve the layout on the finished page. I never hesitate to contact her. This probably sounds too glowing, but it's all true!"
"As a managing editor, I find working with Dawn both humbling and rewarding. She is exacting in her craft and conscientious in every conceivable way. I can always trust her to be careful and considered, and to catch the smallest things that no one else has noticed or even thought about. Always, Dawn is my go-to when I need a consummate professional."
"Dawn Loewen has copy edited a number of books I've worked on [as a substantive editor]. It has been a great comfort for me to know that she takes editing at least as seriously as I do, and on more than one occasion she has saved me from great embarrassment! Her editing is insightful and sensitive, and very much appreciated. I am happy to recommend Dawn to any writer or publisher seeking excellence in copy editing."
"Dawn is meticulous. When I proofread a book she's edited, I know she will have caught every typo and grammatical error and checked every questionable fact. She makes my job easy."
​"It is an absolute joy working with Dawn Loewen! It is also a tremendous feeling of relief knowing that the materials I've left with her to copy edit are in such capable hands. Her meticulous attention to detail is just what is needed to make the messages in my final reports and grant applications shine through clearly. In my latest 100+ page report, I shared comments from community partners with her because, as I put it to Dawn, 'You've become a part of this story now too!' By this I meant that she did her job not only with professional rigour but with heart, and that part of Dawn makes me value her even more. I have turned to Dawn on a number of occasions, and my only concern about adding to this spectacular list of testimonials is that she may get too busy to take on my work!"
"Dawn is nothing short of brilliant in her editing abilities. She thoughtfully and meticulously edits from general structure and flow to the most minor grammatical corrections, even noticing errors in Latin names and weblinks. She is conscientious, easy to work with, and utterly reliable. I don't think it is possible to find higher quality editing services!"
"I would not hesitate even an instant to recommend Dawn Loewen to anyone who needs an editor. Without her involvement, our massive, quirky, and complex natural history publication would have been rife with inconsistencies and errors, including at least one that would have been mighty embarrassing! She was quick to grasp concepts and approaches that were unfamiliar, and infinitely patient and tactful in the face of my inexperience, our team approach to managing the project, and decisions that deviated from the norm. Dawn is a true professional, extremely organized and conscientious, meticulous, good at communicating, and clear about standards and expectations. If you have to wait for her to be available, do it; the wait will have been worth it, I can assure you."
"Dawn Loewen was copy editor on my poetry book Wearing My People Like a Shawl. Her approach gave me a much deeper appreciation for what copy editing can be. Dawn thinks deeply about language. Her queries to me opened new insights into my own work and allowed me to think about language issues I would otherwise have been blind to. I would jump at the chance to work with her again."
"I've had the privilege of having Dawn copy edit my first two historical novels [for young readers]. With meticulous care, she ensured the details of my manuscripts were correct and consistent. Throughout the process, I was curious to learn more about the art and skill of copy editing, and Dawn was always willing to explain. I'm eager to work with her again on my next book."
"I consider myself lucky that Dawn Loewen has edited my two histories of logging on Vancouver Island. Dawn always saw the wood for the trees and asked just the right questions at critical junctures. She excelled at everything from substantive editing to matters of tense, style, and voice. She was that extra pair of eyes that I learned to trust. She pushed, queried, or encouraged me, always with the aim of improving the finished product. She was invariably respectful and always had her head around the manuscript. I have recommended her to many writers over the years and I will continue to do so."
"Dawn has edited several of my books, including Trees of Ontario and the Wayside Wildflowers guides for Ontario, Manitoba, Saskatchewan, and British Columbia. She has a great eye for detail and a good sense of what does and doesn't work grammatically. Because of her science background, she can understand what a scientific writer is trying to say, and will suggest ways to communicate ideas in less technical, everyday language. I depended on Dawn to catch the many little glitches and oversights that sneak into books where text, drawings, and photos come together. Dawn is a wonderful organizer and editor, but she's also fun to work with. Thanks, Dawn!"
"Dawn Loewen is one of those rare gems: an editor who is technically brilliant, but also keenly sensitive to authorial intention. It is one thing to correct mistakes in spelling, syntax, or tense — this is fairly straightforward. But Dawn's added strength is her thoughtful, respectful querying practice. She is a meticulous and sensitive reader, always holding as a base assumption that a writer's selected phrasing has been carefully meditated. She is able to deftly and gently identify where the intended meaning may be at risk of being misapprehended by a reader. It was a joy to pair Dawn with many of Goose Lane's best writers and poets — and to observe those editorial relationships flourish. Dawn was always at the top of my go-to list. There wasn't a project I didn't feel she was equal to."
"I cannot recommend Dawn highly enough for structural, stylistic, and copy editing. She helped me tighten and focus an overly long manuscript. With a keen eye for detail, she provided essential stylistic advice. She went above and beyond the specific editing job with further guidance for improving the manuscript. Friendly, helpful, and always readily accessible, she was a most valuable support for a novice writer."
"Dawn edited my [aviation memoir] Coast Dogs Don't Lie, and opened my eyes with her skills. Not concerned with syntax alone, she checked my facts and found this old coastdog to be a liar on several occasions. Don't leave home without her."